We have arranged a comprehensive holiday insurance scheme with Master Travel Insurance Consultants to provide suitable low cost holiday cover. The premium should be added to your holiday deposit (or full payment if relevant). A summary of cover is set out below whilst the full policy text is available on request. It is your responsibility to acquaint yourself with the terms and conditions of the policy. The policy does not provide cover for re-occurring or pre-existing medical conditions. Please ensure that you read the 'IMPORTANT DECLARATION PRE-EXISTING MEDICAL CONDITIONS' section on page 2 of the policy and, if you need to declare any condition, you should phone the screening line on the number shown to see if cover may be provided. An additional premium or increased excess may be requested to provide cover for such conditions. Please note that Travel One is an appointed representative of Master Travel Insurance Consultants FCA reg. no. 308012 who are authorised and regulated by the Financial Conduct Authority. Travel One is not authorised to provide advice regarding travel insurance as defined by the Financial Conduct Authority.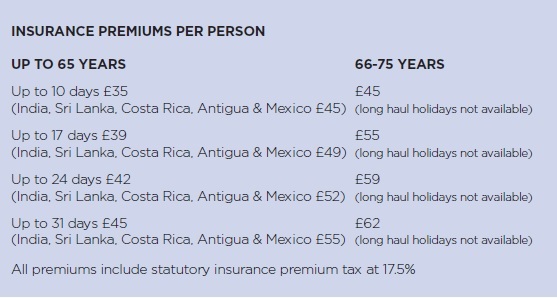 Policy Document
The policy document gives you full details of the cover and the conditions you must satisfy to be fully covered.
Health
The policy is designed to provide emergency medical treatment solely as a result of accident and illnesses occurring during the period of insurance.
Conditions & Exclusions
There are conditions and exclusions that apply to individual sections of the policy and general conditions and exclusions that apply to the whole policy, for example, consequential loss.
Limits of Cover
Each section of the policy shows the most you can claim but other limits may apply. Please check your policy carefully to ensure you have adequate cover.
Policy Excess
You will have to pay an excess on claims under most sections of the policy. This means that you will have to pay for the first part of a claim.
Looking After Your Belongings
You should take all reasonable care to protect your belongings and act as if you are not insured. If you do not do this your claim may not be paid.
Complaints
The policy contains a complaints procedure which tells you what steps you can take if you wish to make a complaint.
Hazardous Activities
If you are going to take part in any hazardous sports or activities you should check that the policy covers you.
Cooling-Off Period
If you are dissatisfied with the policy or if the policy does not meet your needs, you may return it within 14 days of the date of issue and we will refund your premium in full provided you have not undertaken a trip. You must also not have made or intend to make a claim.
Choice of Law
If you buy this insurance in the UK you can choose which law will apply.
Summary of Benefits